Visit us at EUROGUSS 2022!
Euroguss is the biggest and most important trade fair for the die casting industry and focuses on innovative solutions for die casting processes and casting machinery. On three days, exhibitors and visitors will get the chance to discuss the latest developments within the die casting industry. GF Casting Solutions will be present at the fair with its many years of casting experience innovation spirit and development know-how.
Our colleagues from HR are happy to help you with any issues, e.g. what career opportunities are available at GF and how you could best join us.
Use your GF voucher code: B443288
Opening hours
Wednesday, June 08, 2022 from 09:00 am to 06:00 pm
Thursday, June 09, 2022 from 09:00 am to 06:00 pm
Friday, June 10, 2022 from 09:00 am to 03:00 pm
Event location
Hall 7A, Booth 7A-120
Exhibition Center Nuremberg
Messezentrum 1, 90471 Nürnberg
Booth program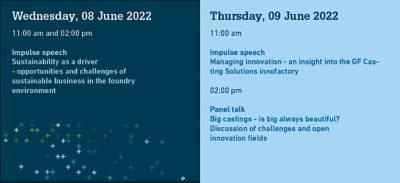 GF Casting Solutions will offer the chance to join impulse speeches and a panel discussion on focus topics such as sustainability, innovation, and big castings. In addition, our colleagues from the HR department will be there to answer any questions you may have regarding your career at GF.  Stay tuned!
Learn more about the booth program:
Sustainability as a driver – opportunities and challenges of sustainable business in the foundry environment
With the Sustainability Framework 2025, GF Casting Solutions is pursuing an ambitious and holistic program of sustainability. Our products enable sustainable mobility concepts for the future. Therefore, it is essential to consider and shape the aspects of sustainability already during product development, production and also in the extended supply network. How climate protection, social standards and diversity contribute to successful corporate development - learn more about sustainability at GF Casting Solutions.
Speaker:
Christina Widmann, Sustainability Manager
Managing innovation – an insight into the GF Casting Solutions innofactory
GF Casting Solutions is following a holistic approach to innovation management. Starting with the right innovation culture, a clearly defined innovation strategy, an actively managed innovation process and the use of open innovation, the main focus is on one key element: all employees worldwide are asked to contribute their ideas and participate in the development of them. Learn more about the GF Casting Solutions innofactory.
Speakers: 
Sabine Tunzini, Innovation Manager
Gabriel Selbach, Head of Innovation
Big castings - is big always beautiful? Discussion of challenges and open innovation fields
Panel Discussion
Big castings or even mega/giga castings are currently the big trend in the automotive industry and have the potential to revolutionize vehicle manufacturing. But are big castings always the best solution and what challenges does this trend imply? Cost and weight reductions as well as increases in efficiency are seen as the main advantages of big castings. But what does this mean in the event of accidents and resulting reparations, or even in terms of production and sustainability? Are big castings nevertheless the future of vehicle manufacturing?
In the panel discussion, our experts will address this topic and discuss open areas of innovation.
Host:
Georg Neuschütz, Head of Business Development
Speakers:
Steve Leistner, Head of Construction, Sales, Managing Director PEM Zerspanungstechnik
Dirk Bormann, Senior Expert Operational Excellence
Frank Gensty, Chief Technology Officer
We empower sustainable mobility
How do we make the mobility of the future more sustainable and innovative? How can we make components even lighter and integrate more functions? And how can we support our customers to shorten time-to-market?

As a technologically pioneering development partner and manufacturer of aluminum and magnesium castings, as well as additive components for the global mobility industry, we will finally be present again and exhibiting at the Euroguss 2022.
Have a look at some of our products:
Curious to learn more about smart processes?
GF Casting Solutions is equipped with latest technology at all of our respective foundries. At our high-pressure die casting locations, we offer the entire value chain from the raw casting to the ready-to-mount component. With expertise and know-how, our R&D team supports projects at every development stage: During all process steps, our strong focus is on availability, performance, and quality. 
Discover all high-pressure die-casting process steps at GF Casting Solutions in the video and learn more about our technologies:
Did you know?
We are sponsor of the Talent Award 2022
The Talent Award offers students a platform to present their thesis with a focus on innovation in the area of high-pressure die-casting along with its entire value chain. The winner of the award will be announced on Wednesday, June 08, 2022 in the speakers corner along with presentations of the candidates, the jury and other sponsors. Frank Gensty, Head of Technology at GF Casting Solutions, will hold a presentation about GF at 12:20pm. Come along!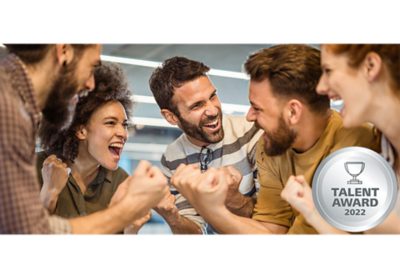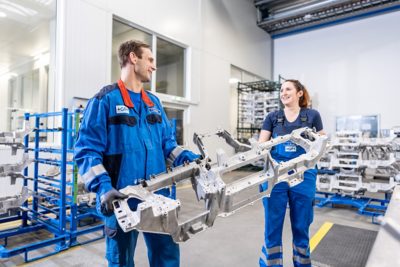 The industry in transformation - Opportunities for young talents who want to focus on innovation and sustainability
Innovative materials, manufacturing processes and lightweight design are becoming increasingly important due to both climate change and environmental policies. Particularly the younger generations are influenced by these debates and are therefore even more interested in sustainability and innovation in their careers.